A propos du projet
BRACED aide les personnes à être plus résilientes face aux extrêmes climatiques en Asie du Sud et du Sud-est ainsi que dans le Sahel africain et les pays voisins. Afin d'améliorer l'intégration des méthodes de réduction des risques de catastrophes et d'adaptation aux changements climatiques dans les approches de développement, BRACED cherche à influencer les politiques et les pratiques aux niveaux local, national et international.
Le financement de DFID pour BRACED a été attribué sous forme de subventions de 3 ans au profit de 15 projets. Vous trouverez ci-dessous les résumés ainsi que les contacts des projets. Ces subventions sont administrées par un consortium de gestion des fonds dirigé par le KPMG qui supervise les contrats et la gestion financière des subventions, assure le suivi de l'avancement du projet, et veille sur la diligence escomptée et la conformité avec les règles. DFID a également désigné un consortium chargé de la Gestion des Connaissances, dirigé par ODI, qui travaille à générer de nouvelles connaissances et des évidences pour faciliter l'apprentissage sur la résilience et l'adaptation en partenariat avec les projets BRACED et la communauté de pratiques sur la résilience en général. Vous trouverez ci-dessous les informations sur les consortiums de Gestion des Fonds et de Gestion des Connaissances.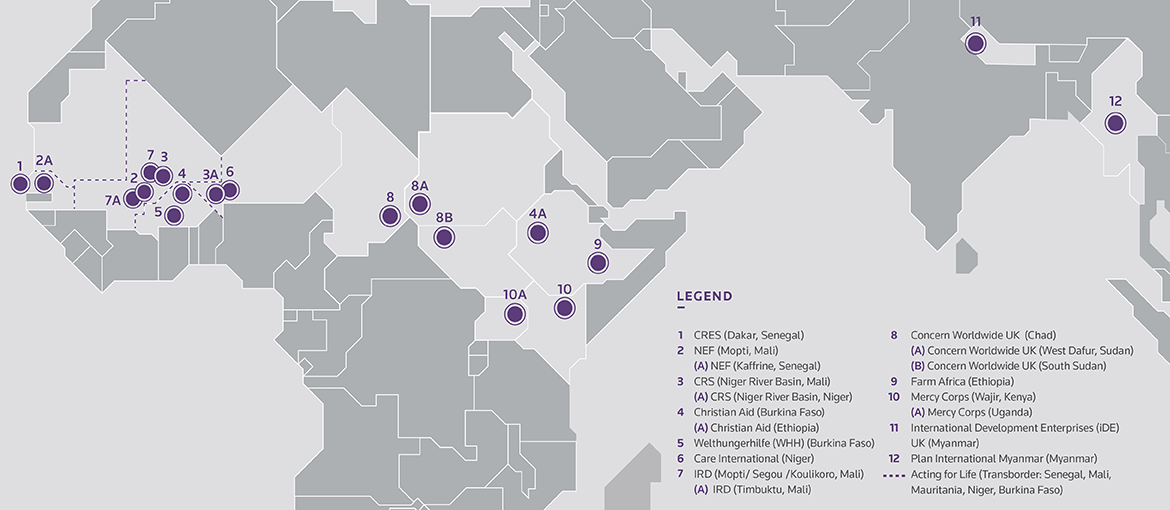 Ongoing projects
The following projects are funded until September 2019.
Completed projects
The following projects were funded from 2015 to 2018.
Financement